DNA Sculpture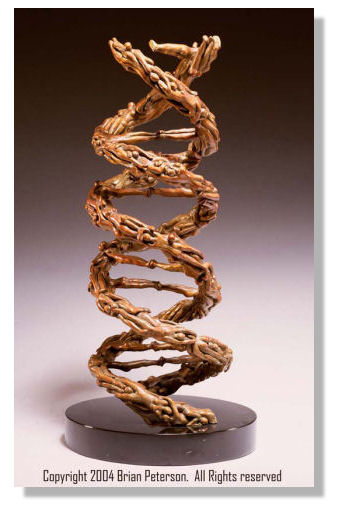 This is a one of a kind. Actually this is one of 7 of a kind. The commission is for a total of 7 sculptures to be made, no more. This is an exquisite , DNA sculpture! It has been made with painstaking care by the artist Brian Peterson. To give you an idea about what is really here, this sculpture weighs 47 pounds (21 kilos) and the base 18 pounds (8.2 kilos) the base is a 12" circle made of black marble.
According to Brian Peterson:
"This solid bronze sculpture was first sculpted in clay. A rubber mold was then placed around the clay and a plaster jacket over the rubber. The clay is then discarded and wax is poured into the rubber mold. The wax "sculpture" is then dipped into a ceramic slurry (many times) and is then fired in a kiln. The wax melts out and the ceramic is hardened to leave a negative space for the metal to be poured in. Once the metal is poured the ceramic shell is broken away and the piece can be welded and metal finished. After the metal is finished to the artist specifications, the surface is then treated with chemicals (patina) to produce a wood like appearance. The piece is then lacquered and based. This sculpture weighs 47lbs and the base 18lbs. The base is a 12" circle made of black marble. This sculpture was created by Brian Peterson in 2004. It took 2 years from conception to completion. The bodies intertwined to make up the DNA molecule, poses an interesting link between what makes the human, and what the human makes."
As you can see, this is a magnificent left handed DNA sculpture. It is so rare that something with this amount of work and thought is done......well, you just won't find this anywhere else! Here is a larger image of the artwork. Here also is a close-up of the DNA sculpture.
The price includes postage to the destination within North America. If it is overseas, there will and additional $60 charge because of the extremely heavy weight.
DNA Mouse Pad | DNA Road Signs
DNA Toy | DNA Crystal Cube | DNA Word Magnets | Gold Earrings
DNA Money Clip | DNA Beaker Mug | DNA Puzzle | License Plates
Bumper Sticker | DNA Tattoo's
Cartoon Guide To Genetics | Black Lights | Beaker Mugs | DNA Wall Clock
Helical Jewelry | DNA earrings | Hemoglobin Cube | Polymerase Cube
Miscellaneous Jewelry | DNA Pins
DNA Tangles | Neck Ties | Music | Darwin Cards| Charles Darwin
New DNA Pin | Suggestions for Department Gifts
DNA Art | The Stuff of Life (Book)
Please feel free to visit out sister store that specializes in Dominican amber with identified insects. Amberica West
has all types from exotic insects to amber jewelery. You will enjoy your visit - it is a very unique store.
Postage for many of your DNA products will be chosen by you. You determine the actual cost and method for shipping. We will get your product to you as soon as possible (often mailed the same day or at worst, the next day). All prices are in U.S. dollars. For any questions, please contact us at sales@TheDNAStore.com.
We do accept purchase orders!
Finally, if you feel more comfortable, feel free to call us at 719-937-6762 (this is in the United States). Our fax number is 719-258-9602.

amber, dna, neckties, deoxyribonucleic acid, jewlery, jewelery, jewlery, gene, genes, dna merchandise, dna products, gene, genes, <br>rosalind franklin, maurice wilkins, models, toys, products, for sale, sale, biotechnology, recombinant dna, rna, DNA, Genes, Genetic, Diseases, Double, pictures of recombinant dna, Philanthropic, Helix, Archetypal, Cold Spring Harbor, Fashion, Meaning, Jewelry, Jeans, <br>Apparel, Souvenirs, Novelties, James, Watson, Crick, Science, Fun. Cathy Soref, Artful, New Beginnings, Strands of Life, We are One, 3-D, Dangles, Shop With a Conscience, Necklaces,
dna DNA DNA activation music genes dna codex light body evolve evolution evolved being of light conscious evolution mapping the DNA blueprint sequencing DNA human genome, genome genomic genetic mapping genetic sequencing 12 strand DNA chromsomes Deoxyribose Phosphoric Acid Adenine Guanine Pyrimidines Cytosine Thymine Bracelets, Earrings, Pendants, Keychains,<br> Cufflinks, Tie Tacks, Collectible, Pins, Chains, Paul Newman, Terrific, Ties, Savvy, Scarves, T-Shirts, Hats, Children, Handkerchiefs <P>watson and crick, francis crick discoverer of structure of dna.
double helix, dna music CD, tangles, deoxyribo,
gene, recombinant dna, gene transfer.