DNA Model
This is by far our finest model - at a price anyone can afford. We now present one of the finest models of DNA on the market. It is 25 inches x 8 inches made of durable and colorful plastic. The accuracy is wonderful. This shows the major grooves and minor grooves of DNA, the angles of the bases, phosphate and ribose are correct, it is just plain fun to put together. It is something that you can use just liven up a room or you can use as a total learning model.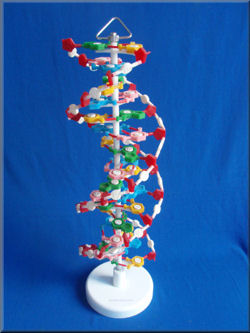 Take a look carefully at the structure of the DNA double helix. You will find that this is one of the best learning tools for children (and adults) that there is. While you can break down the model, it really is set up as a learning tool.
You can inquire about reduced prices for orders above 11 units. For larger orders, inquire about wholesale prices.
DNA Model pictures are located here.
Buy 7 and get the 8th free.
With so many models, they do not stand properly, or are the wrong color or are just plain impossible to assemble. With this kit, you will find that youngsters will love assembling the DNA structure. When they are done, they have an item of beauty. This is about 14 inches tall and 4 inches in diameter. Here is it's own page.

Let your students discover the structure of DNA—just as Watson and Crick did. The DNA Discovery Kit combines powerful magnets with accurate, 3D nucleotides which makes the kit self-instructive. As your students correctly join the nucleotides, they will "feel" hydrogen bonding. Teacher-developed and field-tested, the classroom kit contains 12 base pairs (six of each nucleotide).
Of course a model this fine must have a page of it's own.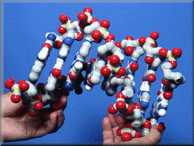 This is one kit that is so good, we call it "The Cadilliac".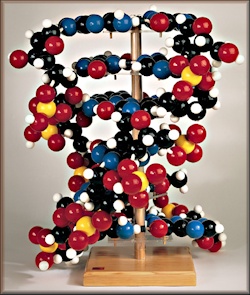 Towering nearly 3 feet tall, this highly visible DNA molecule is ideally suited to lecture hall presentations. But your students will find it is even more effective for hands-on investigations into the functional unit of heredity.
Complete with instructional guide, the model measures 34 in H x16 in Diameter (86x41cm).