Lapel Pins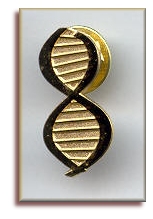 Ever wanted a pin that you could put on your lapel? Or as far as that goes, just give to someone as a present? Here is the original DNA pin. A beautiful way to emphasize your interest in molecular biology! This pin would look good anywhere! Get one for yourself and a friend. The DNA pins are shipped 1st class mail (air mail overseas.)

New DNA Pin
Exclusively made for The DNA Store.com, this pin is a one of a kind. An inch long, this brass pin will look great anywhere to go and where ever you place it. It is inscribed with "DNA" on the top and then DNA written out........."deoxyribonucleic acid" just below the colored double helix. Finally at the bottom, the words "the shape of life".
Please feel free to visit out sister store that specializes in Dominican amber with identified insects. Amberica West has all types from exotic insects to amber jewelery. You will enjoy your visit - it is a very unique store.
Postage for many of your DNA products will be chosen by you. You determine the actual cost and method for shipping. We will get your product to you as soon as possible (often mailed the same day or at worst, the next day). All prices are in U.S. dollars. For any questions, please contact us at sales@TheDNAStore.com.
We do accept purchase orders!
Finally, if you feel more comfortable, feel free to call us at 719-937-6762 (this is in the United States). Our fax number is 719-258-9602.