DNA Balloons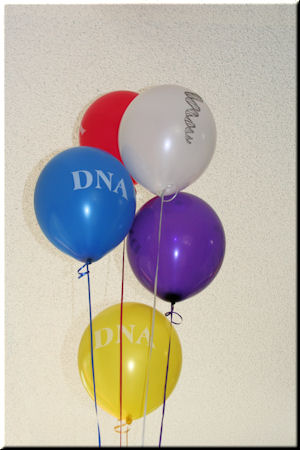 This is about as fun as it gets. We offer here, for the first time, DNA balloons. These are latex balloons, great quality, with the image of a DNA molecule printed on one side and the letters "DNA" on the other side. . Many colors to choose from - you will have a blast with these. They can be used in the classroom, that special occasion for that special person, to mark a special event, a gift, almost anything you can think of - these will really do the job.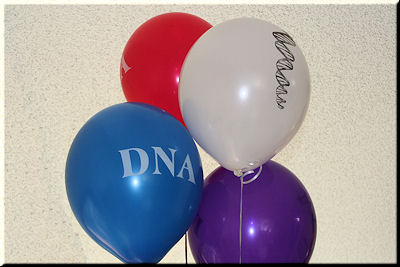 Enjoy the fun, live the life, experience the thrill of our DNA balloons. They will always add that special touch to any occasion. This is guaranteed fun.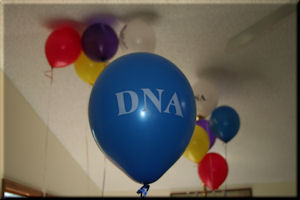 These are 12 inch balloons in the following colors: Red, Blue, White, Yellow and Purple. The weight of each balloon is 3.2 grams. There are 3 types of bags. You can buy the balloons in lots of 10, 20 and 50. That is, there are either 10, 20 or 50 balloons in each bags. Every balloon has a molecule of DNA stamped on the side.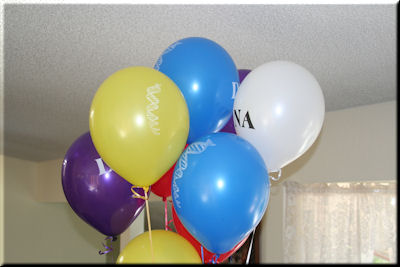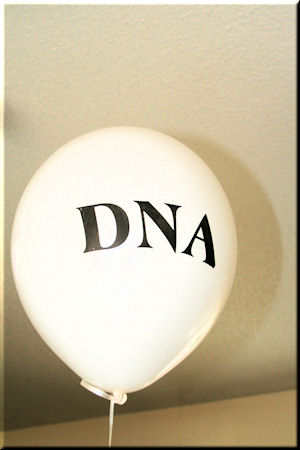 Ever wondered what it would be like to hold a DNA party in your lab or your classroom or for a surprise of someone special? You can do it and not break the bank with these prices.
10 balloon bag costs $1.99
20 balloon bag costs $3.95
50 balloon bag costs $7.95
Please feel free to visit out sister store that specializes in Dominican amber with identified insects. Amberica West has all types from exotic insects to amber jewelery. You will enjoy your visit - it is a very unique store.
Postage for many of your DNA products will be chosen by you. You determine the actual cost and method for shipping. We will get your product to you as soon as possible (often mailed the same day or at worst, the next day). All prices are in U.S. dollars. For any questions, please contact us at sales@TheDNAStore.com.
We do accept purchase orders!
Finally, if you feel more comfortable, feel free to call us at 719-937-6762 (this is in the United States). Our fax number is 719-258-9602.

amber, dna, neckties, deoxyribonucleic acid, jewlery, jewelery, jewlery, gene, genes, dna merchandise, dna products, gene, genes, <br>rosalind franklin, maurice wilkins, models, toys, products, for sale, sale, biotechnology, recombinant dna, rna, DNA, Genes, Genetic, Diseases, Double, pictures of recombinant dna, Philanthropic, Helix, Archetypal, Cold Spring Harbor, Fashion, Meaning, Jewelry, Jeans, <br>Apparel, Souvenirs, Novelties, James, Watson, Crick, Science, Fun. Cathy Soref, Artful, New Beginnings, Strands of Life, We are One, 3-D, Dangles, Shop With a Conscience, Necklaces,
dna DNA DNA activation music genes dna codex light body evolve evolution evolved being of light conscious evolution mapping the DNA blueprint sequencing DNA human genome, genome genomic genetic mapping genetic sequencing 12 strand DNA chromsomes Deoxyribose Phosphoric Acid Adenine Guanine Pyrimidines Cytosine Thymine Bracelets, Earrings, Pendants, Keychains,<br> Cufflinks, Tie Tacks, Collectible, Pins, Chains, Paul Newman, Terrific, Ties, Savvy, Scarves, T-Shirts, Hats, Children, Handkerchiefs <P>watson and crick, francis crick discoverer of structure of dna.
double helix, dna music CD, tangles, deoxyribo,
gene, recombinant dna, gene transfer.