Unique DNA Desk Model
We have just released this unique model of a DNA double helix. The base is about t 3 x 3 inches and the DNA is about 7 inches high. One way to mentally view this is that it is about the size of a bobblehead - except it is a DNA strand that does not 'bobble'.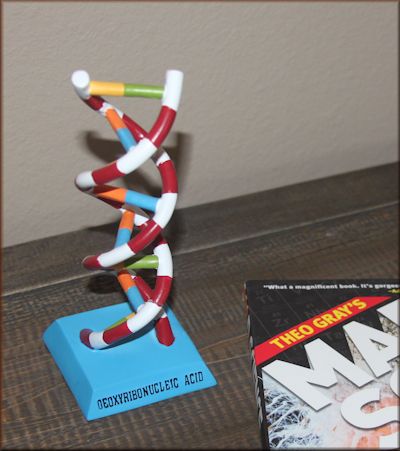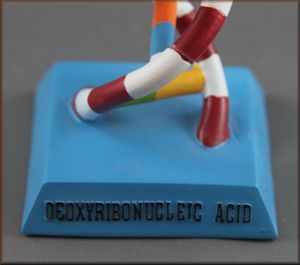 Perfect for the desk, you will draw a lot of attention to this one a kind work of art. Not to be found anywhere else, except here at the DNA store, we offer this to you at a beautiful price of $15.95 each or 2 for $26.90.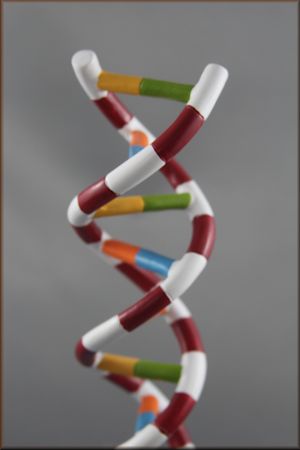 Each comes packed in styrofoam nestled in a white cardboard container. A sure winner for anyone interested in DNA or genetics. A perfect gift for yourself, a special teacher, graduate or just as a desk ornament. The base is such that you could even put a bronze plaque on it with someone's name or a company logo. The space available is about 2.5 inches x .5 inches. Needless to say we do not do engraving - that is up to you. Whatever you do, you are certain to love this model.
Purchase 2 and get a 3rd free...............
Please feel free to visit out sister store that specializes in Dominican amber with identified insects. Amberica West
has all types from exotic insects to amber jewelry. You will enjoy your visit - it is a very unique store.
Also there is a unique site for exclusive and specialized Dominican amber at the Amber Mine.
We will ship your items anywhere in the world. For some the heavier items, you are appropriately charged more. We will get your product to you as soon as possible (usually mailed the same day or at worst, the next day). Remember that US 1st class mail is the slowest method possible. Under normal conditions, you will also be sent an email with the tracking number of your order. For any questions, please contact us at sales@TheDNAStore.com.
We do accept purchase orders!
Finally, if you feel more comfortable, feel free to call us at 719-937-6762 (this is in the United States).

amber, dna, neckties, deoxyribonucleic acid, jewlery, jewelery, jewlery, gene, genes, dna merchandise, dna products, gene, genes, <br>rosalind franklin, maurice wilkins, models, toys, products, for sale, sale, biotechnology, recombinant dna, rna, DNA, Genes, Genetic, Diseases, Double, pictures of recombinant dna, Philanthropic, Helix, Archetypal, Cold Spring Harbor, Fashion, Meaning, Jewelry, Jeans, <br>Apparel, Souvenirs, Novelties, James, Watson, Crick, Science, Fun. Cathy Soref, Artful, New Beginnings, Strands of Life, We are One, 3-D, Dangles, Shop With a Conscience, Necklaces,
dna DNA DNA activation music genes dna codex light body evolve evolution evolved being of light conscious evolution mapping the DNA blueprint sequencing DNA human genome, genome genomic genetic mapping genetic sequencing 12 strand DNA chromsomes Deoxyribose Phosphoric Acid Adenine Guanine Pyrimidines Cytosine Thymine Bracelets, Earrings, Pendants, Keychains,<br> Cufflinks, Tie Tacks, Collectible, Pins, Chains, Paul Newman, Terrific, Ties, Savvy, Scarves, T-Shirts, Hats, Children, Handkerchiefs <P>watson and crick, francis crick discoverer of structure of dna.
double helix, dna music CD, tangles, deoxyribo,
gene, recombinant dna, gene transfer.