German-speaking Moravian scientist and Augustinian friar who gained posthumous fame as the founder of the modern science of genetics. This framed image is 26 x 29 inches.
Gregor Johann Mendel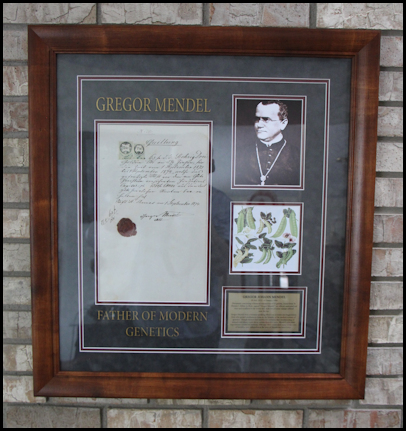 Item SKU: HIST2
We know, this is hard to believe, but this is really a document signed by the Gregor Mendel in 1874. Almost all his papers were burned after he died. That was to clean up the large mess he left with his scientific notations and description of his works.
We also recognize that this is no casual purchase by an individual. Mostly likely suited to the board room of a biotechnology company or similiar avenue, this is a document that will cause anyone's jaw to drop once they look at it. We have looked at this with unbelievable awe. This still sends shivers down my spine when I look at it.
This document is signed, one page, 8,25 x 13,5, Brno, 1.IX.1874, in German, untranslated document concerning a financial transaction of 63 gulden, issued from St. Thomas's Abbey in Brno, signed "Gregor Mendel"; an official embossed red wax seal is affixed to the lower left, with two revenue stamps affixed near the top; with mild intersecting folds, light toning and soiling and very mild wrinkles to the top edge - in fine to very fine condition.
In parts:
"...an 5 % Zinsen vom 1 September 1873 bis September 1874welche das gefertigte Stift von dem am Gute Pernstein versicherten Fundations-Kapital...gutsherrlichen Renten baar erhalten hat. Stift Sct. Thomas vom 1 September 1874."
When the young Johann Gregor Mendel entered the Augustinian St. Thomas's Abbey in Brno in the early 1840s, he commenced his training as a priest, taking the name Gregor and securing himself an education that would have otherwise been financially unattainable. Fascinated with heredity, he began studying mice, but at the behest of his bishop (who did not like the idea of his monks studying animal sex), quickly switched to plants. Conducting his studies in the monastery's five-acre experimental garden, he spent nearly two decades working with peas before developing his Law of Segregation and Law of Independent Assortment—which would later become Mendel's Laws of Inheritance.
Though his findings made little impact at the time of publication (1866), they would resurface 35 years later to become one of the biggest contributions to the emerging field of genetics. Becoming abbot of the monastery in 1868, Mendel left his scientific work behind to handle a lengthy dispute with the government regarding special taxes on religious institutions. Following his death, the succeeding abbot burned papers in Mendel's collection to mark an end to the financial troubles, making autographed material by the groundbreaking scientist very difficult to come by.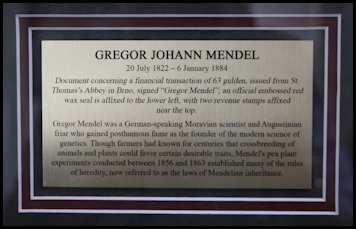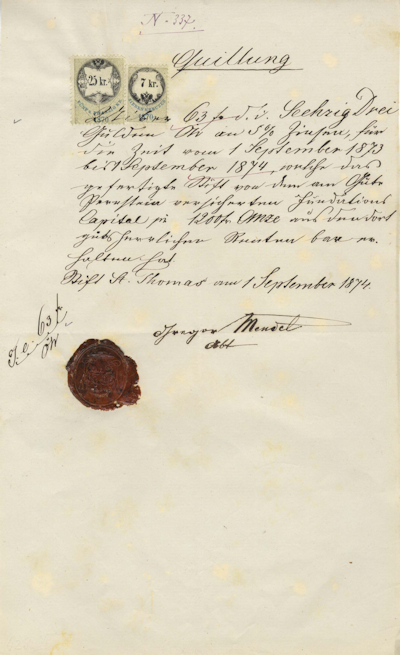 View Cart / Checkout
---