With so many models, they do not stand properly, or are the wrong color or are just plain impossible
to assemble. With this kit, you will find that youngsters will love assembling the DNA structure. When
they are done, they have an item of beauty. And this model will not break the bank like other models
often do. This is about 14 inches tall and 4 inches in diameter. Here is it's own page.
These new X and Y pins are just suburb. They have a lovely color to them and will go with anything.
We are pricing these as the "best deal around." They may be purchased separately or as a pair -
either way these are fun items to wear or give as gifts. To give you an idea on size, the X chromosome
is just a bit more than 3/4's of an inch long, so they make a statement without being overpowering.
Each has a normal pin attachment on the back (we did not show the attachment.) You just can't go
wrong with the quality or the price on these chromosomes.
This commemorative £2 coin for 2009 celebrates the 200th anniversary of the birth of Charles Darwin as well as the 150th anniversary of the publication of On the Origin of Species. The reverse of the coin, designed by Suzie Admit, features a profile portrait of Charles Darwin and a chimpanzee together with the denomination TWO POUNDS, the year dates 1809 and 2009 and DARWIN. The presentation folder tells the story of Charles Darwin's life and achievements and includes a reproduction of original drawings he made during his travels.
Struck to Brilliant Uncirculated quality which is a much higher standard than the coins found in general circulation. There were only 5,000 of these coins minted. On the edge is the inscription: ON THE ORIGIN OF SPECIES 1859.
Suitable for all ages, this is the ideal gift for anybody interested in natural history
and Charles Darwin and his life.
Specifications
| | |
| --- | --- |
| Denom. | Two Pounds Metal |
| Alloy | Inner - Cupro-nickel / Outer - Nickel-brass Mint |
| Weight | 12.00 gms |
| Diameter | 28.4 mm |
| Edge Inscription | ON THE ORIGIN OF SPECIES 1859 |
Darwin Card Holder
We admit, this is not for everyone. You should have personal business cards to put in it. But oh, is this one cool like the DNA spiral at the top of this page. Can you imagine this sitting on your desk with your professional business cards inserted so that anyone could pick up one of your cards? In fact, more than that, this is an item that starts conversations. So unique and so one-of-a-kind. This piece of art is designed and made by Robert Toth, a well known artist whose specialty are busts. This is made executively for The DNA Store. He has even signed the inside of each of them. You will not find them anywhere else. We only have a few of the Darwin card holders. One style is bronze and the other is black.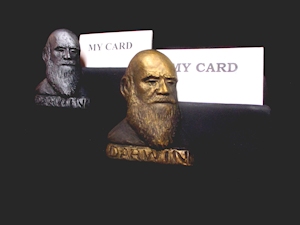 | | |
| --- | --- |
| Black Darwin Card Holder | Bronze Darwin Card Holder |
| | |
Here is one of the most exciting things to come along in a long time. We are now offering two
types of DNA puzzles. Both are 300 piece puzzles and fairly good sized, 38 x 26 cm. If you ever
wanted to have just plain fun - or want your kids to remember the shape of DNA, this is it.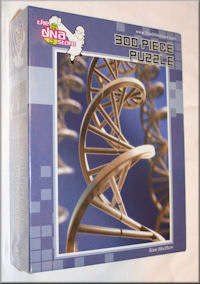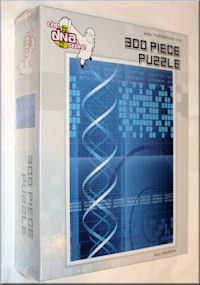 DNA Puzzle 1 ..........................................................DNA Puzzle 2
Made for enjoyment and learning this DNA puzzle will be just the ticket for the learning curve.
Have fun, enjoy and learn at the same time. Visit the puzzles on their own web page . We have
special rates when you order a class set (12 or more)
DNA Puzzle 1

DNA Puzzle 2

2 DNA Puzzles
(one of each)

12 DNA Puzzles
(6 of each)
Wow - have we got a deal for you. You can order a box of 40 of these puzzles (either puzzle 1 or puzzle 2) for just $3.00 per puzzle. But to get that you must order a box of 40. We are so overstocked at this time (really)! So either puzzle, 40 in a box, that ends up being a total of $120 for 40 puzzles. A gift for a class, resale is unbelievable, department gifts, this is one heck of a sale.
Exclusively made for The DNA Store.com, this pin is a one of a kind. An inch long, this brass pin
will look great anywhere to go and where ever you place it. It is inscribed with "DNA" on the top and
then DNA written out........."deoxyribonucleic acid" just below the colored double helix. Finally at the
bottom, the words "the shape of life". By the way, there is FREE shipping with this item
(shipped 1st class.)
You can check this pin out further at this spot.
DNA Ornament
Talk about cool items. Here is an ornament to top all ornaments. This is a real double helix
- DNA - to hang anywhere you want. Looks great on a Christmas tree or just hanging from the
ceiling. Each has an eye hook to facilitate hanging the structure.This is a very special item, not to
be found anywhere else. This is an original from The DNA Store.
They come in 4 colors: white, red, blue and yellow. You can buy them individually or much less
expensively as bulk packaging. Each ornament is about 6 inches long You can order single
ornaments or bulk wrapped in lots of 50 (right now we have only white in bulk). All of the red ornaments are bulk packed - that is they
are not in a blister wrap. These are normally shipped 1st class mail.
Check out their own page.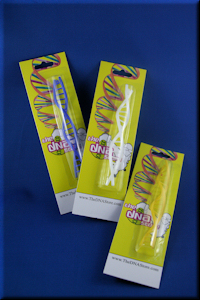 This is certainly different, we found a bunch of normal playing cards - with DNA
imprinted on the decks! Very special cards with the double helix across the back.
Your players are certain to be impressed with you grasp of biotechnology when
you bring these cards out to play!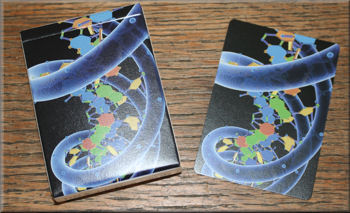 Buy 4 decks of playing cards and get one free.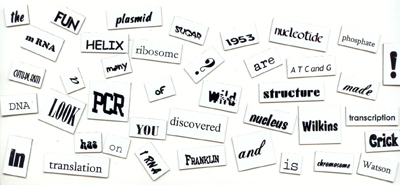 This one is so cool, the simplicity will take you back. Here is a set of 'refrigerator magnets'
that deal only with DNA words! How sharp to have words on the refrigerator that anyone can
make sentences from. Just think what your kids can learn. How about on the incubator in
the lab? I wonder what Jack or Sally would do with these words? This is just plain fun.
What a great gift for yourself or a friend.
You can see these on their own web page.
Exclusively made for The DNA Store.com, these earrings and pendant will be an instant hit with
anyone knowing anything about biology. Accurately made in 14K solid gold, they are perfect replica's
of the DNA strand, with the sugar, phosphates on the outside and the bases on the inside.
These earrings are solid 14K gold.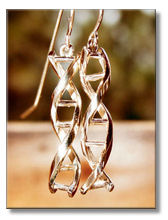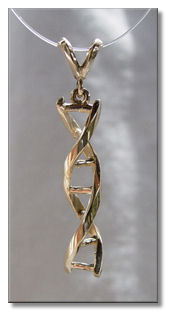 Feel free to check out the web page on this work of art.
| | |
| --- | --- |
| DNA Solid Gold Earrings | DNA Solid Gold Pendant |
| | |
Here is the same thing as the gold, but in silver color. We just cannot emphasize the artistry that is in
each and every piece that you see, wow. These are actually made of a cupronickel alloy.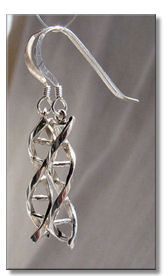 The DNA Store's own money clip. Carry your money around and organized in the The DNA Store's best ever product. These money clips are made of burnished steel. They are made by Zippo and carry the Zippo brand. Travel with confidence when you own this unique product. These money clips are priced to sell. This product has its own page.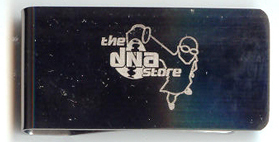 | | |
| --- | --- |
| 1 Money Clip | 2 Money Clips |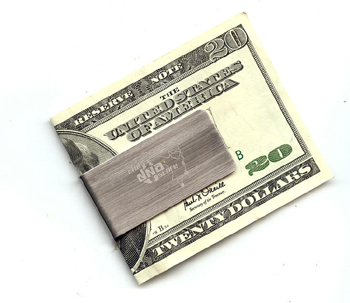 Wall Tattoos