"The place where the secret of life is found."



Belt Buckle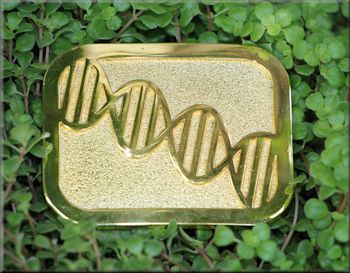 Sometimes we just do things for the fun of it. This is one of those times. This belt buckle is 2 x 2.5 inches. Gold color with burnished gold on the recessed portions of the buckle. Only for fun, everyone will have a kick out this. We even priced this so that one could purchase a large number of these and still not "break the bank". Here are some images of the back of the buckle and another of the buckle itself.



Money Clip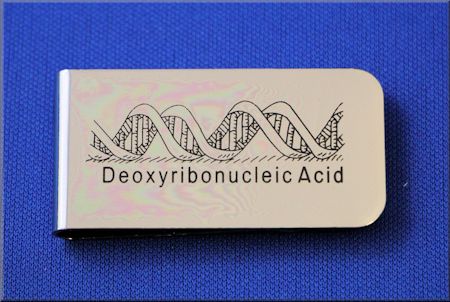 We had these designed for us recently and now offer them for sale, at an exceptional price. Priced at only $4.95, you can afford to get many of these as gifts. This is a metal money clip that will last a long time. It is about 2 inches by 1 inch. With a drawing of the DNA molecule and the words "Deoxyribonucleic Acid" - you are going to love this one.



X and Y pins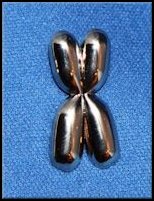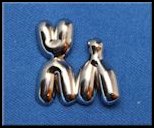 New DNA Cube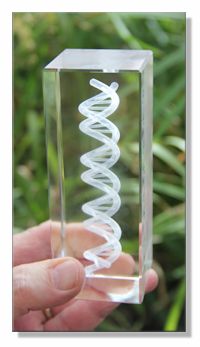 An optically perfect crystal cube with a 3-dimensional DNA molecule etched into the center. The Self-Replicating Molecule DNA's structure is shown here, giving the location of the atoms and bonding in the two sugar-phosphate backbones and the central bases. Hydrogen bonds hold the bases (rungs) together. About thirty five base pairs are shown, which is a tiny fragment of a real gene.
This sculpture is a 3D model laser-etched into an optically perfect crystal. At 2" square by 5" tall it makes a convenient paperweight. This is a nice sized block of DNA. It also comes in a beautiful presentation box.

Black Presentation Box
with DNA cube



New DNA Beaker Mugs
The DNA Beaker Mugs are here. We have produced these beaker mugs with science in mind. Not only are they wonderful 400 mL beaker mugs (perfect size) but these will amaze your friends, students or the casual individual. We have sturdy handles on the 400 mL beakers - and going through the handle is a beautiful artist drawing of the famous DNA molecule. Just plain cool.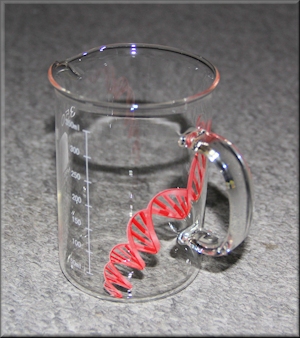 Male / Female Pins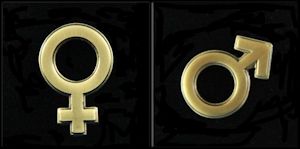 How fun is this. You can purchase a female of male symbol - or both. Not expensive and just plain 'out of the ordinary' pins. About 1 inch by .5 inches, these pins are good any any purpose.
| | | |
| --- | --- | --- |
| Purchase 1 Female Symbol | Purchase 1 Male Symbol | Purchase 1 Female and 1 Male Symbol |



DNA Cufflinks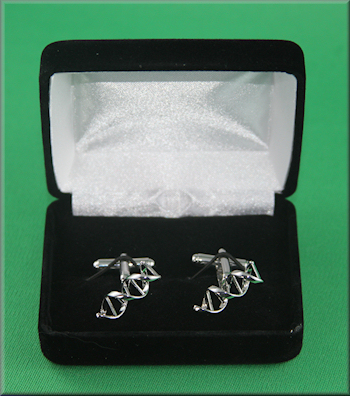 This pair of cufflinks are special. We have been working hard to have these made just the proper way - and finally, we have succeeded. These are superb cufflinks and they will make a great addition to anyone's collection. They also make great gifts for that special person.



New Earrings - Just In!
With these earrings, you will fall in love instantly. They are about 1.25 x 0.3 inches or about 33mm x 10mm in size. They are silver tone in color and cupro-nickel in body. The perfect size to go with just about anything you wear. These are not stylised, but authentic representations of the actual shape of DNA (deoxyribonucleic acid). These do have their own page.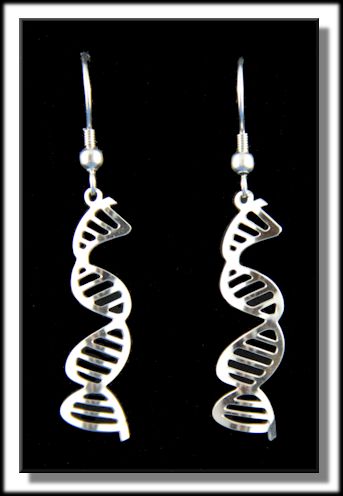 New DNA Cubes
Ever wanted something to put on your desk that will stimulate exciting interest in DNA when they see the many images of the molecule? This is probably the most fun you will have in a long time. Investigate the 9 different images by flipping the cube squares around in varying shapes. You will keep on finding new DNA shapes and images to explore. Keep your friends or students interested in DNA for a long time - just by playing. There are shipped 1st class mail.
You will not find this anywhere else. It is another exclusive for The DNA Store.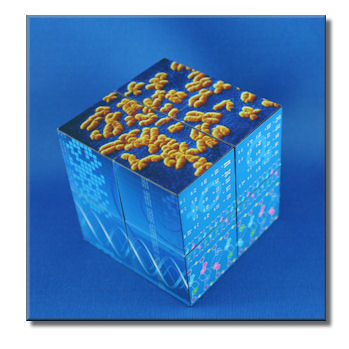 Key Chain
Sometimes when you have something made and you see it for the first time, you know you did it right. We did this one right. It is beautiful. Just the type of accessory that you want to put your keys on, or even better, the type of thing you want to give to someone else because it is just plain 'neat'. This does have it's own page.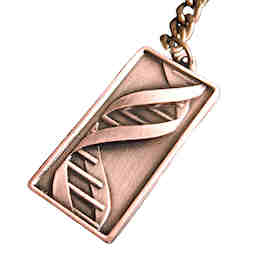 New Bumper Stickers
Here are two new bumper stickers that you are going to love. No explanation on them - if you understand them, then they are just as good as it gets. If you do not, do not worry. They are 10 x 3 inches in size. We must admit, these are some of the best that we have ever seen.

and

- OR -
Molecular Jewelry


You know, sometimes this stuff is just plain fun. We just had some of these made because frankly, they are just cool. So now we offer them to you so you can also have some fun. These would be great to give the whole lab, or just a friend for a special occasion or just for yourself. Here they are, we hope you have as much fun with them as we did thinking them up. They are made of study plastic and will give you years of perfect service.
I was just thinking. It would be a sharp question on a test to tack the plate cover on the black board (or white board) and ask the kids to explain the beauty of the statement.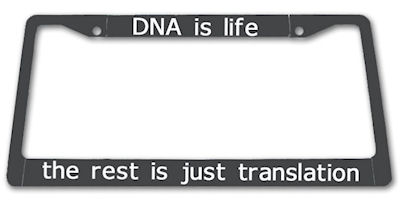 New DNA Word Tie
Normally we would not put this new product front and center, but it was felt that it is just too good not to
show everyone. Just about every word you can think of that relates to DNA is found on this tie. Just think
of the fun you will have discovering new words - or for that matter think of the fun everyone else will have.
Enjoy your search - but do not wear this when you play scrabble.
We have many more ties...............they are located here.
Chromosome Cube - New
Have we got a treat for you. We have had made an optical cube of human chromosomes. This 80 mm x 80 mm solid glass cube contains as 46 human chromosomes. It is very heavy. The only one of its kind anywhere and exclusively sold here at The DNA Store.
Balloons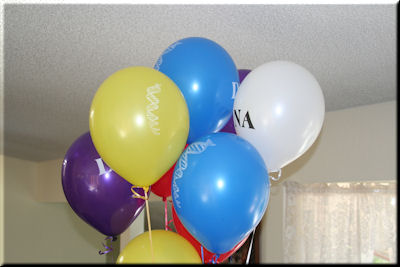 This is about as fun as it gets. We offer here, for the first time, DNA balloons. These
are latex balloons, great quality, with the image of a DNA molecule printed on one
side and the letters "DNA" on the other side. Many colors to choose from - you
will have a blast with these. They can be used in the classroom, that special
occasion for that special person, to mark a special event, a gift, almost anything
you can think of - these will really do the job.
Of course these have their own page.
10 balloon bag costs $2.35
20 balloon bag costs $3.95
50 balloon bag costs $7.95
A double helix bundle of fun. Who knew a double helix could be this much fun outside of science class? You and your dog will have a blast with this tough rubber toy, great for tossing, tug-of-war, or any old roughhousing. Chewing this rubbery toy helps keep teeth and gums in tiptop shape, too.
Small 5.5 inch Helix Dog Chew
(small dogs)
Large 7.5 inch Dog Chew
(large dogs)
DNA Lapel Pin
We just had these made for The DNA Store. The top part is a swirl of the double helix, then below the words 'deoxyribonucleic acid' and finally hanging underneath the initials "DNA". Classy, unique and special, this pin is really sharp. We are pricing these at the unbelievable amount of $7.10 - you cannot lose. The pin is 1.75 inches wide and .75 from top to bottom.. There are 2 pins in the back to attach to your clothing.
\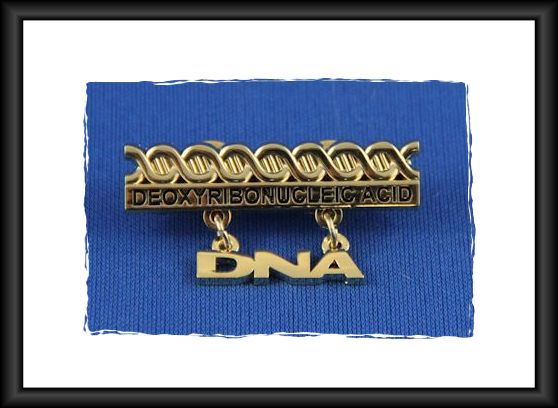 DNA Lapel Pin
A beautiful lapel pin for any gentleman or lady. This is an attractive pewter pin at a price that is outstanding.
5/16" x 1" or 8mm x 25mm
New DNA Word Tie
Normally we would not put this new product front and center, but it was felt that it is just too good not to
show everyone. Just about every word you can think of that relates to DNA is found on this tie. Just think
of the fun you will have discovering new words - or for that matter think of the fun everyone else will have.
Enjoy your search - but do not wear this when you play scrabble.
This is what we call our 'doodle' mug. Good enough for any scientist, great for a molecular biologist or just someone enamoured by science in general. We did the doodles on a yellow background, rather like doodling on a yellow note pad. You will have great fun with this unique mug.
DNA Blinker Pulls
This is just plain fun. We have a blinking zipper pull that has a color full twisted double helix that blinks.
The double helix has a beautiful color - this is just plain cool. You can use this as a zipper pull or even
put it on your luggage to identify it from the other thousands of ubiquitous black suitcases - or as a key chain. These do not use batteries. They have a solar cell in them which uses ambient light. They work
so well.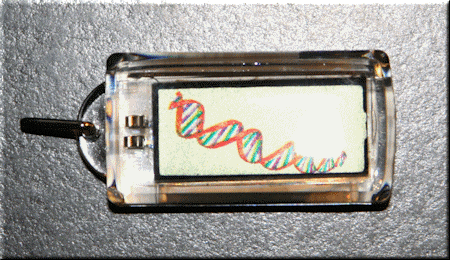 DNA Greeting Cards
The DNA Store now offers you a new set of greeting cards, not only regular greeting cards, but "thank you" cards also. The regular cards all have a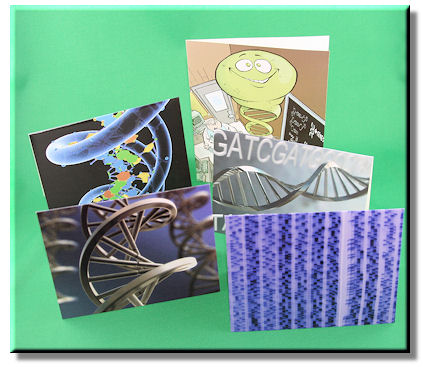 science (DNA theme) with nothing written inside (that is, they are blank on both inside, sides) That is so you can use them any way you prefer. The card stock is excellent and the images are out of this world - maybe I should re-phrase that - they are way inside this world.
These have their own page which show a lot more images.
DNA Earrings
We have some of the sharpest earrings I have ever seen. They are just smashing. The size
is about 1 inch x .5 inches. - they are thin so they are light weight on the ears. We have
always wanted to get a beautiful pair of silver earrings at a very affordable price - one that
anyone could afford. With this pair, we have accomplished both objectives. They are outstanding
and they are not expensive. Try them and we will guarantee you will buy another pair to give
away to a friend.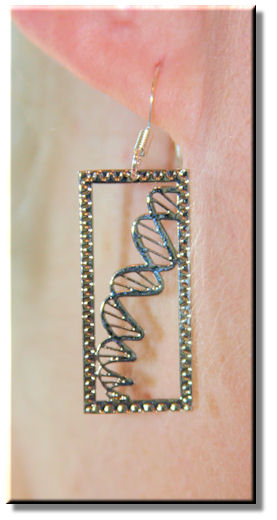 Or meet our newest ones: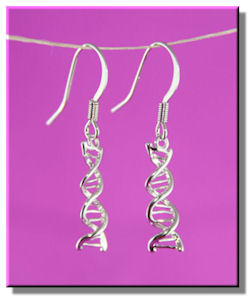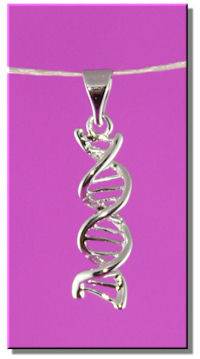 To purchase these, go to their page: Earrings and Pendant

As you many know, our sister company is Amberica West. That is a firm that sells amber from all
over the world. We have just had some special amber jewelry made for us at The DNA Store.
It is a stylised DNA molecule with an amber sphere of pure Baltic amber in the middle. This is a
stunning design. We are all in love these pieces. The amber serves as the helicase enzyme in
this situation.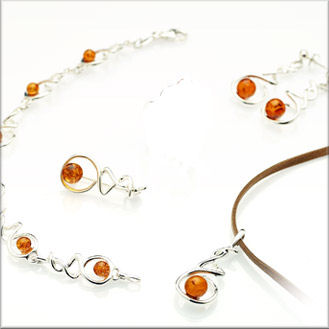 We have got to tell you that this item is just plain fun. It is a DNA decal that is 2 feet x 5 inches.
This could go anywhere - use you imagination: a refrigerator, wall, filing cabinet, desk, door,
side of a car - if you can think of it, it can go there. We have priced this so everyone can get at
least one - what a great gift and what a great price.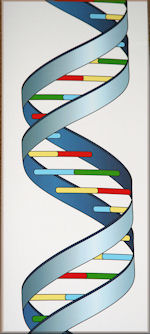 With so many models, they do not stand properly, or are the wrong color or are just plain impossible
to assemble. With this kit, you will find that youngsters will love assembling the DNA structure. When
they are done, they have an item of beauty. And this model will not break the bank like other models
often do. This is about 14 inches tall and 4 inches in diameter. Here is it's own page.

These new X and Y pins are just suburb. They have a lovely color to them and will go with anything.
We are pricing these as the "best deal around." They may be purchased separately or as a pair -
either way these are fun items to wear or give as gifts. To give you an idea on size, the X chromosome
is just a bit more than 3/4's of an inch long, so they make a statement without being overpowering.
Each has a normal pin attachment on the back (we did not show the attachment.) You just can't go
wrong with the quality or the price on these chromosomes.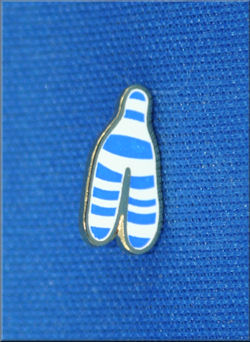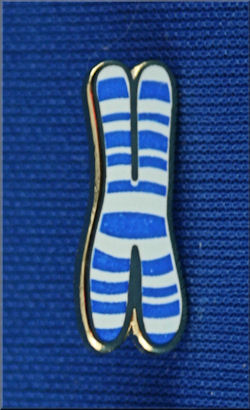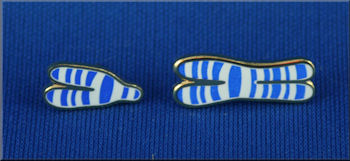 | | |
| --- | --- |
| 1 pair of XY Pins | 1 pair of XX Pins |
| | |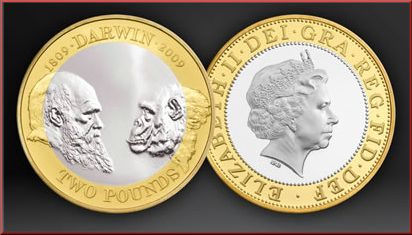 This commemorative £2 coin for 2009 celebrates the 200th anniversary of the birth of Charles Darwin as well as the 150th anniversary of the publication of On the Origin of Species. The reverse of the coin, designed by Suzie Admit, features a profile portrait of Charles Darwin and a chimpanzee together with the denomination TWO POUNDS, the year dates 1809 and 2009 and DARWIN. The presentation folder tells the story of Charles Darwin's life and achievements and includes a reproduction of original drawings he made during his travels.
Struck to Brilliant Uncirculated quality which is a much higher standard than the coins found in general circulation. There were only 5,000 of these coins minted. On the edge is the inscription: ON THE ORIGIN OF SPECIES 1859.
Suitable for all ages, this is the ideal gift for anybody interested in natural history
and Charles Darwin and his life.
Specifications
| | |
| --- | --- |
| Denom. | Two Pounds Metal |
| Alloy | Inner - Cupro-nickel / Outer - Nickel-brass Mint |
| Weight | 12.00 gms |
| Diameter | 28.4 mm |
| Edge Inscription | ON THE ORIGIN OF SPECIES 1859 |
Darwin Card Holder
We admit, this is not for everyone. You should have personal business cards to put in it. But oh, is this one cool like the DNA spiral at the top of this page. Can you imagine this sitting on your desk with your professional business cards inserted so that anyone could pick up one of your cards? In fact, more than that, this is an item that starts conversations. So unique and so one-of-a-kind. This piece of art is designed and made by Robert Toth, a well known artist whose specialty are busts. This is made executively for The DNA Store. He has even signed the inside of each of them. You will not find them anywhere else. We only have a few of the Darwin card holders. One style is bronze and the other is black.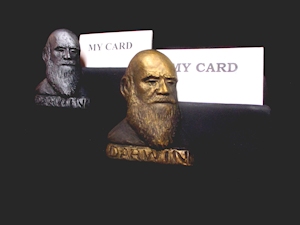 | | |
| --- | --- |
| Black Darwin Card Holder | Bronze Darwin Card Holder |
| | |
Here is one of the most exciting things to come along in a long time. We are now offering two
types of DNA puzzles. Both are 300 piece puzzles and fairly good sized, 38 x 26 cm. If you ever
wanted to have just plain fun - or want your kids to remember the shape of DNA, this is it.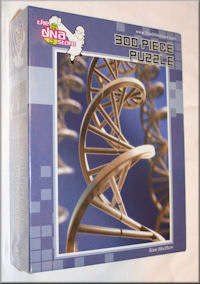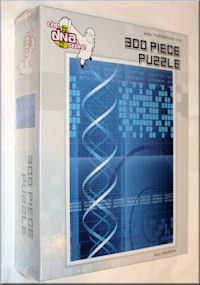 DNA Puzzle 1 ..........................................................DNA Puzzle 2
Made for enjoyment and learning this DNA puzzle will be just the ticket for the learning curve.
Have fun, enjoy and learn at the same time. Visit the puzzles on their own web page . We have
special rates when you order a class set (12 or more)
DNA Puzzle 1

DNA Puzzle 2

2 DNA Puzzles
(one of each)

12 DNA Puzzles
(6 of each)
Wow - have we got a deal for you. You can order a box of 40 of these puzzles (either puzzle 1 or puzzle 2) for just $3.00 per puzzle. But to get that you must order a box of 40. We are so overstocked at this time (really)! So either puzzle, 40 in a box, that ends up being a total of $120 for 40 puzzles. A gift for a class, resale is unbelievable, department gifts, this is one heck of a sale.
Exclusively made for The DNA Store.com, this pin is a one of a kind. An inch long, this brass pin
will look great anywhere to go and where ever you place it. It is inscribed with "DNA" on the top and
then DNA written out........."deoxyribonucleic acid" just below the colored double helix. Finally at the
bottom, the words "the shape of life". By the way, there is FREE shipping with this item
(shipped 1st class.)
You can check this pin out further at this spot.
DNA Ornament
Talk about cool items. Here is an ornament to top all ornaments. This is a real double helix
- DNA - to hang anywhere you want. Looks great on a Christmas tree or just hanging from the
ceiling. Each has an eye hook to facilitate hanging the structure.This is a very special item, not to
be found anywhere else. This is an original from The DNA Store.
They come in 4 colors: white, red, blue and yellow. You can buy them individually or much less
expensively as bulk packaging. Each ornament is about 6 inches long You can order single
ornaments or bulk wrapped in lots of 50 (right now we have only white in bulk). All of the red ornaments are bulk packed - that is they
are not in a blister wrap. These are normally shipped 1st class mail.
Check out their own page.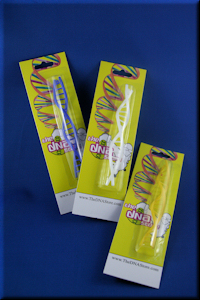 This is certainly different, we found a bunch of normal playing cards - with DNA
imprinted on the decks! Very special cards with the double helix across the back.
Your players are certain to be impressed with you grasp of biotechnology when
you bring these cards out to play!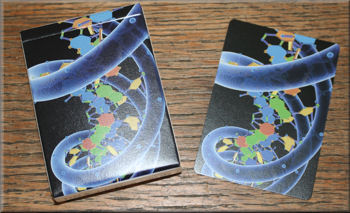 Buy 4 decks of playing cards and get one free.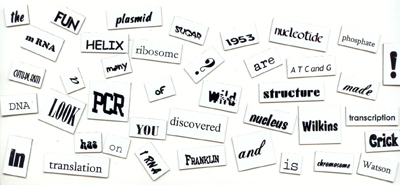 This one is so cool, the simplicity will take you back. Here is a set of 'refrigerator magnets'
that deal only with DNA words! How sharp to have words on the refrigerator that anyone can
make sentences from. Just think what your kids can learn. How about on the incubator in
the lab? I wonder what Jack or Sally would do with these words? This is just plain fun.
What a great gift for yourself or a friend.
You can see these on their own web page.
Exclusively made for The DNA Store.com, these earrings and pendant will be an instant hit with
anyone knowing anything about biology. Accurately made in 14K solid gold, they are perfect replica's
of the DNA strand, with the sugar, phosphates on the outside and the bases on the inside.
These earrings are solid 14K gold.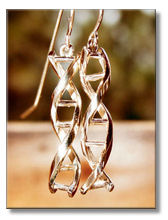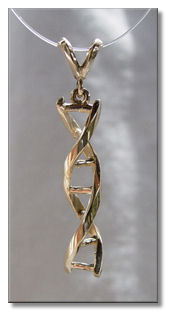 Feel free to check out the web page on this work of art.
| | |
| --- | --- |
| DNA Solid Gold Earrings | DNA Solid Gold Pendant |
| | |
Here is the same thing as the gold, but in silver color. We just cannot emphasize the artistry that is in
each and every piece that you see, wow. These are actually made of a cupronickel alloy.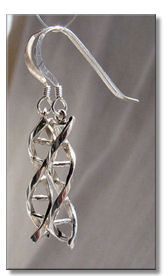 The DNA Store's own money clip. Carry your money around and organized in the The DNA Store's best ever product. These money clips are made of burnished steel. They are made by Zippo and carry the Zippo brand. Travel with confidence when you own this unique product. These money clips are priced to sell. This product has its own page.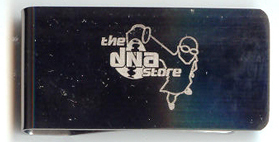 | | |
| --- | --- |
| 1 Money Clip | 2 Money Clips |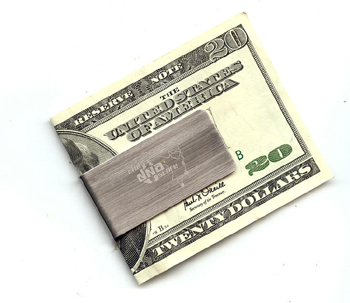 Wall Tattoos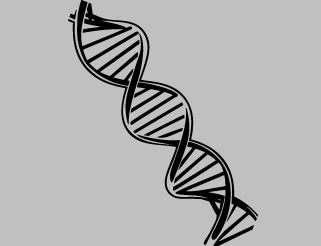 These are 9 x 2 feet in size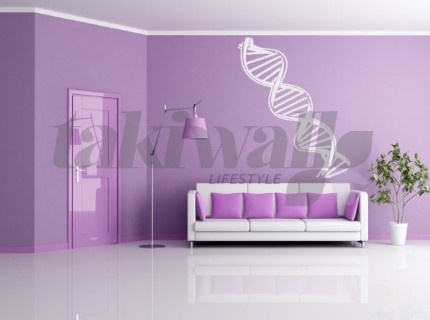 Our wall stickers are the best available in the market. Perfect for the laboratory, the classroom or even your child's bedroom. The possibilities are endless. They go right on the wall and they look like someone painted them directly on your wall. Rather like wall "tattoos". They are magnificent. We offer you five colors, black, oak ivy, white, blue and light gray. They are large! The wall stickers are 9 feet x 2 feet - really large!

Scale

This is one of the coolest scales we have seen in a long time. Here is the best thing about the scale - these are really good scales at an unbelievable price.

| | |
| --- | --- |
| | if you would like 2 of the scales (great gift): |
Gregor Mendell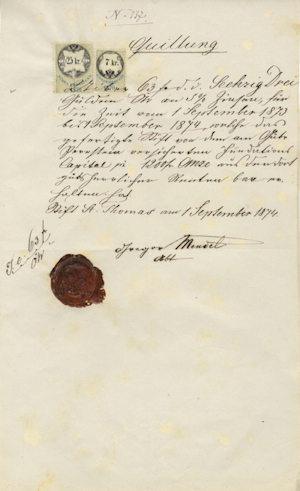 We know, this is hard to believe, but this is really a document signed by the Gregor Mendel in 1874. Almost all his papers were burned after he died. That was to clean up the large mess he left with his scientific notations and description of his works.

We also recognize that this is no casual purchase by an individual. Mostly likely suited to the board room of a biotechnology company or similiar avenue, this is a document that will cause anyone's jaw to drop once they look at it. We have looked at this with unbelievable awe. This still sends shivers down my spine when I see it.

This document is signed, one page, 8,25 x 13,5, Brno, 1.IX.1874, in German, untranslated document concerning a financial transaction of 63 gulden, issued from St. Thomas's Abbey in Brno, signed "Gregor Mendel"; an official embossed red wax seal is affixed to the lower left, with two revenue stamps affixed near the top; with mild intersecting folds, light toning and soiling and very mild wrinkles to the top edge - in fine to very fine condition.

To see more of Mendell's letter, go here. (It is for sale.)
Interesting situation about this 9 foot model: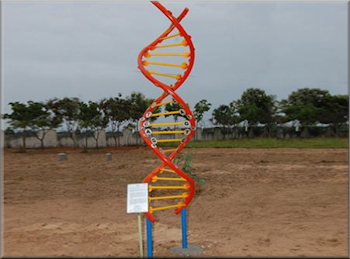 Click here to find the story behind this.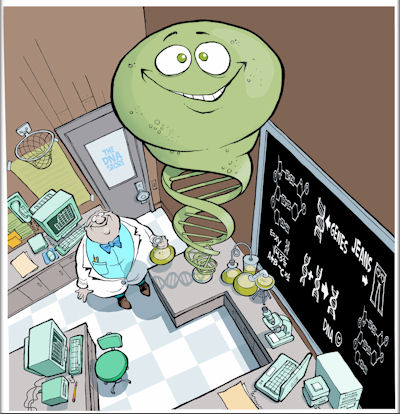 The DNA Store's Web Cam (smaller picture, to go there just click on the image):
Here is a strange situation. I happened to be looking at the Eiffel Tower cam and saw a DNA strand on the side. These are real pictures (not doctored.)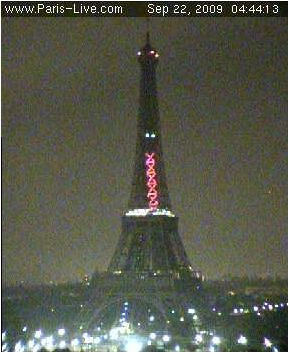 and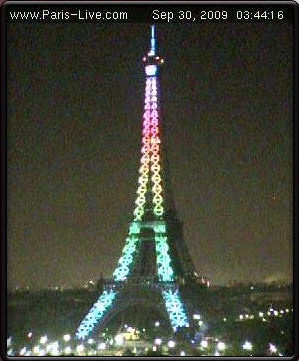 We will ship your items anywhere in the world. For some the heavier items, you are appropriately charged more. We will get your product to you as soon as possible (usually mailed the same day or at worst, the next day). Remember that US 1st class mail is the slowest method possible. Under normal conditions, you will also be sent an email with the tracking number of your order. For any questions, please contact us at sales@TheDNAStore.com.
We do accept purchase orders!
Finally, if you feel more comfortable, feel free to call us at 719-937-6762 (this is in the United States).